The final details on Hi!Superb's 1st full-length album are out.
Hi!Buddy!! is scheduled to be released on 17/07/2019, available in regular and limited editions.
The cover art is the following for each edition:
The tracklist is the following:
01.Hi!Buddy!!
02.VIVA!SUMMER
03.Bring Out The Heroes
04.Angel don't cry(LEO/RYO)
05.Flavor(LEO)
06.Brand New Hi!
07.Step into the Hi!Superb
08.Turn Into Love
09.Reality(RYO)
10. Happy Life Spectacle
11.Eureka(OMI)
12.Brave Rejection
13.ニジイロDAYS(MAGURA)
14.MugaMuchu☆Life
15.Journey(OMI/MAGURA/SION)
16.華が散る前に(SION)
17.My Everything For You
Previews to most of the songs on this album are available on Hi!Superb's official website (link below).
A short preview of the music video for the title track is out.
The contents for each edition are the following:
Regular: CD only
Limited: CD + DVD (Hi!Buddy music video +
On another note, the group is going to hold a new live – Hi!Superb SUMMER LIVE2019 on 24/08/2019 at Zepp Tokyo.
Hi!Buddy!! is available for pre-order at CDJAPAN.
Hi!Superb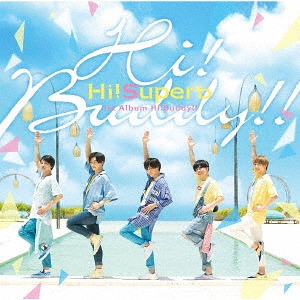 Hi!Superb
SOURCE: Hi!Superb official website