Hi!Superb has previewed two songs on upcoming debut single "Turn Into Love".
First off, an overview of this project and group:
Created by LOVE&ART (behind B-PROJECT), Hi!Superb is a unique 2.5D unit that counts with an exclusively actor cast instead of the common seiyuu cast that you find in most 2.5D units. According to Livedoor news, this project aims for a 100% synchonization between character and actor. Hi!Superb excel in Dance&Vocals.
The unit is signed with Sony Music Artists.
The members are the following:
Leo (actor Leo Mitami)
Omi (actor Soichiro Oomi)
Ryo (actor Ryo Takizawa)
Magura (actor Magura Sekegawa)
Sion (actor Sion Yoshitaka)
Hi!Superb are going to debut with the song "Turn Into Love". The single is set to be released on 30/05/2018. The mini-album is going to be released on regular and limited editions.
The tracklist is the following:
1.Turn Into Love
2.MugaMuchu☆Life
3.cutie,cutie
4.Turn Into Love(off vocal)
5.MugaMuchu☆Life(off vocal)
6.cutie,cutie(off vocal)
Previews to all tracks can now be found on Hi!Superb's official website – HERE .
A short promotional video featuring a bit of the title track's instrumental is available on Love&Art's youtube channel.
The contents for each edition are the following:
Regular: CD only
Limited: CD + DVD (includes music video for "Turn Into Love" + making of)
More details on this release are going to be unveiled in the upcoming months. Be on the look out for more updates from us.
Turn Into Love" is available for pre-order on CDJAPAN.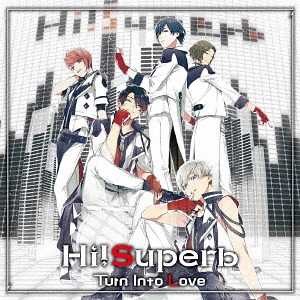 Hi!Superb
SOURCE: Hi!Superb official website / Hi!Superb official twitter account