"Glow my way" is the new single by Japan's Golden Duo: Hiroshi Kamiya and Daisuke Ono. The two prolific seiyuu release once again another strong single that will be featured as their radio program "Hiroshi Kamiya & Daisuke Ono Dear Girl Stories" opening theme.
Dear Girl Stories is not your typical radio show. This show hosted by prolific seiyuu Hiroshi Kamiya and Daisuke Ono is the number one radio show in Japan and there's a good reason to it. Not only both actors are incredibly good radio hosts keeping everyone entertained throughout the craziness that both bring to it but they're also talented both in acting and successful in different levels on their solo singing careers. Daisuke Ono seems to overshadow Hiroshi Kamiya regarding that fact but when both join as a unit they overshadow most seiyuu units out there (Yutaku II, Trignal, Maxboys and Animarus [アニ○ズ]). Having two incredibly distinctive voices is one of the pluses regarding this successful partnership between many other aspects that would make this review turn into a thesis.
Now about the single:
Single: "Glow My Way"
Genre: J-Pop
Label: Avex trax
Release Date: 20/11/2013
Tracklist:
1. Glow My Way
2. ツムギイト
3. Glow My Way(off vocal)
4. ツムギイト(off vocal)
5. 漢!裸武奏帝
Track by track analysis:
1 – Glow My Way
The title track and opening theme for Dear Girl Stories. "Glow my way" is an upbeat song and, like most of the previous opening songs featured on the DGS, it turns out to be instantly addictive. Brass, melodic guitar riffs, a rich bassline that is carefully adding depth to the song despite being always in the background, and simple drums make this instrumental, one of the most entertaining ones in their repertoire. As far as vocal performances go, we can comfortably say that Ono and Kamiya match well the whole preppy/upbeat vibe and deliver yet another exciting performance. 4.5./5
2 – ツムギイト
The ending theme for the radio show. ツムギイト is a pop song through and through. This time around we are presented with flashy synths and a very strong chorus. This is not your average radio show ending theme. Hiroshi Kamiya and Daisuke Ono exceeded themselves with this one. "Glow my way" will get into your heads like a flash, the song is as catchy as it could get. The guitar solos are great and the drums are pretty energetic fitting quite well with the synths. The piano parts are classic electro/house giving an almost dreamlike feel throughout the verses. Regarding the vocals I'd say that both seiyuu are on top of their game. Daisuke Ono as always completely dominates the lower notes while Hiroshi Kamiya deals with the lower notes making both vocals sound like a whole, a powerful whole to boot. The strongest song on the single. 5/5
5 – 漢!裸武奏帝 
By far the weirdest track I've heard them sing since their little skit on the radio regarding the "Osakana Tengoku" song. Believe me when I say that that song is still one of the weirdest and funniest songs I've heard because Hiroshi Kamiya and Daisuke Ono seem to be drunk while singing to it, failing completely to even sound a bit good. Just felt like the typical Japanese karaoke performance if you ask me but well let's leave it at that. Regarding this song: well it's just plain weird listening to Hiroshi Kamiya singing with a low tone, we all know that he has a voice more prone to the more genki (upbeat), high-pitched singing but this time he keeps up with OnoD's usual low vocal work which may come off weird on a first listen. It may grow or not on you with a few more listens. 4/5
Final rating: 4.5/5
The duo has grown and that is shown by their vocal work always improving, the instrumental and the lyrics especially on ツムギイト. We're talking about two of the most famous and talented seiyuu the seiyuu business has to offer and they never fail to impress be it acting, singing or in events. The duo takes a more electronic pop approach to their sound on ツムギイトafter some rock oriented songs like "Dirty Agent!" and "My Dear Girl!". This genre fits like a glove to both actors and even helps them showcasing their singing skills to another level. The title track "Glow My Way" goes in same direction as the previous opening themes, the upbeat instrumental with both seiyuu taking turns showcasing their singing skills.  In 漢!裸武奏帝  we're completely surprised. The song is not what you're waiting for in a J-Pop single. This is just pure fun for both actors and we can tell by only listen to it once. Could the single be better? Yes, it could. Would I change anything on the single? Probably not since the single has a purpose: to be listened as a whole so if some songs that sound bad or anything in between are there, there's a reason behind it. Is it the best single they have released? Hard to say since all their singles until know have been pretty interesting but I'll say this bit: the ending theme is by far the best I've heard on DGS. It's energetic, the arrangement is pretty good, the synths are not that exaggerated until the point of making you completely disregard the song because of the possible "cheesiness" of it. It sounds well right from the beginning and the chorus is one of those that won't get out of your head for a long time. Overall is a good release by two of the most interesting seiyuu in the business.
The single is available on CDJAPAN for all overseas fans.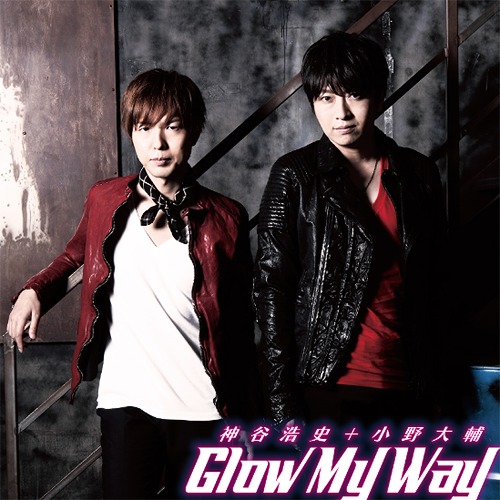 Hiroshi Kamiya, Daisuke Ono