Another album release this month and this time is from prolific seiyuu Hiroki Takahashi.  The new album "Blessings" was released this Wednesday (4th) to celebrate the 10th anniversary of his singing career. Hiroki Takahashi, born September 7, 1974 in Tokyo is one of Japan's most interesting and versatile actors in the industry but is also an incredible good singer and guitarist. So far he has released:
Three albums
1st - 2004 - "ありのままの日々"
2nd - 2012 - "JOURNEY"
3rd - 2013 - "Blessings"
Five singles
1st - 1998 - "心を信じて"
2nd - 2004 - "今日もまた太陽は容赦なく輝く"
3rd - 2005 - "BE YOURSELF"
4th - 2005 - "まだ見ぬ先へ"
5th - 2007 - "ダイヤモンドの勇気'"
1 Best off
1st - 2013 - "Kyara nite Soro"
Hiroki Takahashi
Besides his solo career, Hiroki is part of seiyuu unit "STA☆MEN" with fellow seiyuu Junichi Suwabe, Kenichi Suzumura, Daisuke Kishio, Makoto Yasumura, Kosuke Toriumi and Hiroyuki Yoshino.
Both editions of the album are available on cdjapan.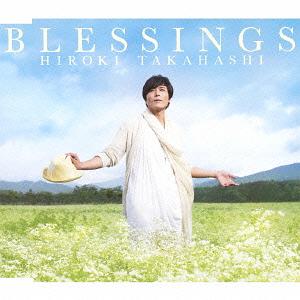 Hiroki Takahashi
Hiroki Takahashi