Album/single: BLESSINGS
Genre: J-Pop
Label: King Records
Date released: 04/09/2013
Seiyuu Hiroki Takahashi has released earlier this month his new single "BLESSINGS". With a music career that spans over 10 years this is his 6th single release and it turns out to be one incredibly good single.
Tracklist:
| | |
| --- | --- |
| 1. | BLESSINGS |
| 2. | NOCTURNE |
| 3. | 心を信じて -2013style- |
| 4. | BLESSINGS (Original Karaoke) |
| 5. | NOCTURNE (Original Karaoke) |
| 6. | 心を信じて-2013style- (Original Karaoke) |
Track by track analysis:
1 – BLESSINGS
Blessings is one of those songs that is not included on the actual pop genre, and what do I mean with this? Well, we don't have the usage of heavy synths, auto-tune or any other voice manipulation software. We have a great song with honest lyrics, pretty slow paced compared with the usual j-pop full of electronica. Hiroki's vocal work is pretty impeccable, his voice tone is soothing almost angel-like. Some might say that this song pends a bit for the ballad-like pop and I agree with this. The song is so soft and the instrumental is so beautiful that it can only be categorized as a ballad. 4/5
2 – NOCTURNE
To completely breaking the pace of the single comes a rock song. An amped chorus, fast drums, ranging guitars and strong vocal work by Hiroki. This one could almost be called an anime song since it exudes that vibe. On the outro we get to hear an amazing guitar solo that extends to the beginning of the last chorus. NOCTURNE is, without a doubt, the highlight of the single. 5/5
3 – 心を信じて -2013style-
A song that is no stranger for Hiroki's fans since it was released in 2003. For this time the song suffers a bit of changes and receives a makeover. "心を信じて -2013style-" is an introspective song pending more for the pop/rock genre. The vocal work is good and the lyrics are incredibly good. An interesting song overall. 4/5
Final rating: 4.5/5
Strong single showcasing Hikori's amazing vocals. The songs are beautiful and incredibly well executed. A clear "THANK YOU" to the fans that have supported Hiroki's music career for over 10 years.
The single is available on CDJAPAN for all overseas fans.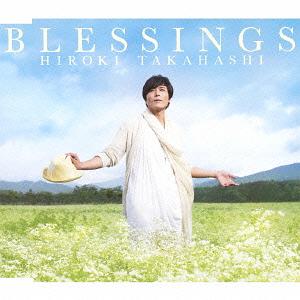 Hiroki Takahashi
Hiroki Takahashi