Growth continue to push the envelope with their sound. Haunting vocals and a unique middle-eastern inspired instrumental easily make "Tsuioku no nenia" one of the best songs in the RE:START series.
Title: ALIVE RE:START series vol.3 Growth
Label: Tsukipro/Movic
Release date: 26/10/2018
Genre: Pop
Tracklist:
1 - 追憶のネニア
2 - 追憶のネニア (off vocal)
Track analysis:
1 – 追憶のネニア
Growth's 3rd entry in the RE:START series is a haunting experience.
The listener is overwhelmed with a soothing and fancy intro that counts with a blend of acoustic guitars, atmospheric synths and a sitar. The song, however, doesn't maintain its slow pace, no matter how much the intro might have hinted towards it. Pace quickens up to the infectious rhythms of riq and doumbek, two percussion instruments that make Tsuioku no nenia's middle-eastern adventurer vibe come to life. A fancy bass line, acoustic guitar, sitar melodies, live drums, a playful piano melody and what seems to be a mey (Turkish cane flute) melody make the verses exciting and exotic. The bridge and outro will leave the listener in awe. The instrumental is an explosion of sounds after explosion of sounds. This song is colorful and has a unique sound and touch that is a first in Growth's repertoire. This time around, the group's "time" theme is played blunt way. In previous releases in the RE:START series, Growth played around with that theme by incorporating clock sounds and going back in time. This time around it was more straightforward than expected. The song is fast paced, it's a race against time and the listener can feel its urgency. What seemed to be only a stylistic choice, is actually their crafty way of pulling off – once again – the "time" concept. It is certain that "Tsuioku no nenia" will take the listener on a journey to an exotic and fast paced soundscape and the listener won't get tired of it.
With a song 6 minutes long, there's more than plenty of time for each member to shine individually, as well as impress as a group. Now, this song has plenty of things going on on the vocal end, some of those only noticeable after a couple of listens. Just like the instrumental, the vocals are exciting and fast paced but not at the expense of quality – that is something that this group never seems to lack -. This is a refreshing performance that pushed the group further away from their comfort zone. Toki, Yamashita, Terashima and Yoshitaka's harmonies are at a point that they come off as haunting, perhaps overwhelming for the listener. At the same time their ad-libs and chants are exciting and add a unique flair to this song. Growth's members are so leveled that it's impossible to point out who stood out the most in this performance. Listeners can expect nothing more than an exciting and powerful performance.
Growth continue to impress with their versatility in pulling off new concepts, their individual and group's growth's and their unique soundscapes. "Tsuioku no nenia" ranks as one of Growth's best songs released to date as well as one of the best songs in the RE:START series (ALIVE and SQ) so far.
Final rating:
ALIVE Growth 「RE:START」 Series 3 is available for purchase at CDJAPAN.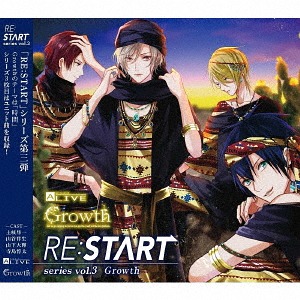 Growth (Shunichi Toki, Yoshitaka Yamaya, Daiki Yamashita, Junta Terashima)