"Kachofugetsu Hen" series' last chapter is finally here. GROWTH bring in the big guns for this release, improving quite a lot since their previous release with their polished technique.
Single: 月影のリフレイン (Moonlight's refrain)
Label: Tsukino Pro
Release date: 25/11/2016 
Genre: J-Pop
Tracklist:
1 - 月影のリフレイン
2 - 月影のリフレイン (off vocal)
Track analysis:
1 – 月影のリフレイン
"Moonlight's refrain" features an ethereal instrumental in which the piano bears melancholic while chimes and strings add some refined touches to the overall sound. This mid-tempo song takes us to a fantasy realm with its instrumentalization alone.
It might seem like a rather complicated song with this explanation but it's actually the contrary, this simple instrumental fits like a glove with the vocal performances.
The fact that everyone has a distinctive voice color made one specific part of the song standout by itself. The focal point is by far their technique – especially in those canon sections before the chorus; pay attention to those as they will certainly surprise you.
This release surpasses "Corona" by far. Everything that was wrong on that track was improved and this time around the vocals sound clear, packing much more impact than that jumbled mess of a chorus we got with the previous single.
This time around there was no one that really stood out, it's safe to safe that the unit as a whole is growing by the day and everyone is exactly at the same level right now.
Displaying stable vocals and having improved on their technique, GROWTH have redeemed themselves after that small slip with "Corona".
---
"Moonlight's refrain" is available for purchase at CDJAPAN.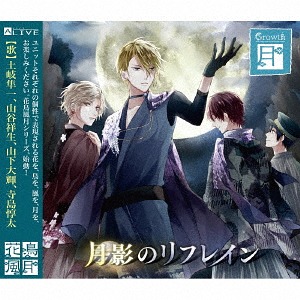 Growth (Shunichi Toki, Yoshitaka Yamaya, Daiki Yamashita, Junta Terashima)