GOALOUS5 unveiled details on their upcoming release.
GOALOUS5 consist of Kentaro Kumagai, Junta Terashima, Shugo Nakamura, Shohei Komatsu and Toshinari Fukamachi. Their concept is "that of a dark hero who tries to win the world by using his voice". Additionally, each member dons a different "color".
GOALOUS5 are going to release the theme song CD, GO5! GOALOUS5! on 05/11/2019 available on regular and MV editions.
The cover art is the following for each edition:
The tracklist is the following:
01 - GO5!GOALOUS5!
02 - Let's GOALOUS5!!
03 - GO5!GOALOUS5!(Instrumental)
04 - Let's GOALOUS5!!(Instrumental)
The contents for each edition are the following:
Regular: CD only
MV: CD + DVD (GO5!GOALOUS5!music video + making of)
A commentary video featuring the group is out.
【報告】
先日発売が決定したテーマソングCDの追加報告です。GOALOUS5テーマソングのミュージックビデオの制作が決定しました!こちらの報告を5人からお届けします。ぜひご注目ください!#GO5 pic.twitter.com/xqXBei38jN

— GOALOUS5 (@sir_goalous) August 6, 2019
Gcrest unveiled samples of the bonuses to be included with pre-orders and first press editions of the single. Those are the following: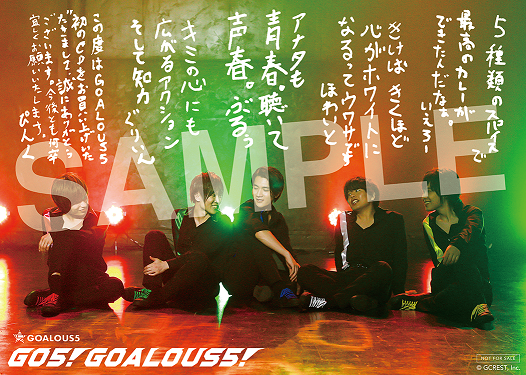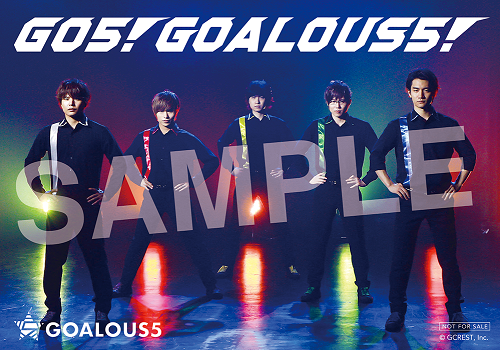 More details on this release are going to be unveiled in the upcoming weeks.
GO5! GOALOUS5! is currently unavailable for pre-order at CDJAPAN.
Source: Gcrest