"It's obvious that the duo has upped the ante in this release, sounding way better and fresher in this release."
ELEKITER ROUND 0's second release this year is already out. Titled 「狂騒輪舞曲(きょうそうロンド)」, and  romanized to "Kyōsō rondo", this is the duo's 6th mini-album and second release so far this year. The boys are back continuing where things were left of in "Kaonashi Shinshi", released last month. Satoshi Hino and Shinnosuke Tachibana bring us their new pop sound as well as some elements already seen before on their mini-albums.
Mini-album: 「狂騒輪舞曲(きょうそうロンド)」
Release date: 26/03/2014 
Label: Marine Entertainment
Genre: J-Pop / J-Pop-Rock
Tracklist:
1. 狂騒輪舞曲
2. 白い雪の花
3. 月の砂漠のジプシー
4. Butterfly Cry
5. 狂騒輪舞曲 (日野ver.) [BONUS TRACK]
6. 狂騒輪舞曲 (立花ver.) [BONUS TRACK]
7. 白い雪の花 (日野ver.) [BONUS TRACK]
8. 白い雪の花 (立花ver.) [BONUS TRACK]
9. 月の砂漠のジプシー (日野ver.) [BONUS TRACK]
10. 月の砂漠のジプシー (立花ver.) [BONUS TRACK]
11. Butterfly Cry (日野ver.) [BONUS TRACK]
12. Butterfly Cry (立花ver.) [BONUS TRACK]
Track by track analysis:
1. 狂騒輪舞曲
"Kyoso Rondo" is the final part out of the two-part piece  (Kaonashi Shinshi + Kyoso Rondo) written by Shinnosuke Tachibana. This track continues where it was left of keeping the classy, jazzy sound already present in "Kaonashi Shinshi". A milder track resorting to trumpets, piano and the drums, once again the guitars take their place in the background not receiving that much spotlight in this track, but still they take the wheel for a few seconds in the outro leading to a battle between the strings, piano, acoustic guitars and drums. It's an incredibly rich outro, a rarity in ELEKITER ROUND's repertoire. This track is clearly upbeat, making you want to hit the dancefloor as soon as it starts playing. A good single and a good way to complete this double piece. Also for those you've watched the PV for "Kaonashi Shinshi", the story is fully unveiled in "Kyoso Rondo" 's PV and it ends in an interesting way: more fights along the way for the diamond necklace "Poker Face" and an interesting development leading to an almost funny ending. For those who haven't watched it, Sakurai Takahiro makes an appearance once again. 4.5/5
2. 白い雪の花
The good old ELEKITER ROUND 0 sound is back on this one. Written by Satoshi Hino "白い雪の花" is a slow, ballad-like track giving us a more laidback overview of the band. Without big background distractions this track fully takes the spotlight from the instrumental piece and puts it in both voices. Satoshi Hino takes the lead in this sweet song, leading to Tachibana's perfectly hit highs. Don't expect great development from this track with big build ups, sudden guitar solos or complete changes of pace. This is a track that serves as the perfect showcase for both outstanding voices and stays as slow-paced as when it started. The instrumental is simple but effective, making good used of the piano, strings and the bass to deliver us a gentle, seductive piece. Vocal wise it shows ELEKITER ROUND 0 on top of their game, Tachibana sounds great and confident with his highs, Hino delivers a very emotional performance, occasionally delivering some chilling highs. 5/5
3. 月の砂漠のジプシー
The mix between the Spanish style acoustic guitar playing along with the shakuhachi deliver us one of the strongest tracks in this mini-album. A sexy, seductive track from start to finish, it's the mix between the traditional and the non-traditional that make this track a must listen. 月の砂漠のジプシー resorts to the heavy acoustic driven sound, a track that doesn't resort to the guitars to dictate the rhythm and, even so, it screams "summer". A track that gives that southern european feel with that rasgueado guitar playing, mixing well with the clap track and the almost unnoticeable drums. A track that throws away all synths and goes towards a more "pure" sound. Vocal wise they sound incredibly well and energised. A mesmerizing track from start to finish. 5/5
4. Butterfly Cry
Don't let the track's title trick you. What sounded like a delicate, maybe a more ballad like track is, in fact, a full fledged rock song reminding us of the "Zero" (debut mini-album released in 2010) days. This track is aggressive due to the piercing drums, overall resorting to a more aggressive, fast style of playing. With such a strong start this track begins to impress you with the raging guitar riffs, the bass blending in with Tachibana and Hino's fierce vocals. A song that explores the more rockish side to the duo that we were so used to with two of the most aggressive mini-albums: "Zero" and "Maria". The guitars go completely crazy on this one with an incredibly strong solo in the outro. Occasionally we're presented with a chorus but it's nothing that drags the track's quality down. 4.5/5
Final rating: 4.5/5
It's obvious that the duo has upped the ante in this release, sounding way better and fresher in this one.  That overly bright pop that the duo presented us in their last release is, more than obviously, not a match for this duo's potential. They sound best when they have their pop-rock sound resorting to a more seductive approach to their lyrics, instead of the way too different approach in "Kaonashi Shinshi" that pended sometimes to an awkward, cheesy sound. Well structured and putting to good use the duo's strengths, this mini-album explores once again and shows us new elements as well as already known ones. We have once again that ELEKITER ROUND o's signature ballad with 白い雪の花 (Shiroi yuki no hana) and the highly danceable 月の砂漠のジプシー, as well as the jazzy 狂騒輪舞曲 and the aggressive "Butterfly Cry". It's a mini-album that explores the various possibilities to ER0's sound, showing us how versatile of a duo they are. Tachibana and Hino are showing signs of being strong lyricists, penning two of the most entertaining and richest tracks (lyrics wise).
We said before to come with a clean slate for this mini-album and it sure paid off, because this mini-album almost made us completely forget how weak "Kaonashi Shinshi" sounded. The duo was capable of redeeming themselves with this one, a stronger, more comfortable side to ELEKITER ROUND's sound, still there's some elements brought from the last release since Tachibana penned both jazzy singles and seeing how those were connected, it's obvious that they would go in the same direction, on another note it's good to see the duo not forgetting their original sound coming back with their aggressive rock and sexy ballads. An improvement. Certainly these are the yearly ELEKITER ROUND 0 releases and we can only expect new stuff next year, still we have enough material to entertain us until the next release.
"Kyōsō rondo" is available for purchase on CDJAPAN for all overseas fans.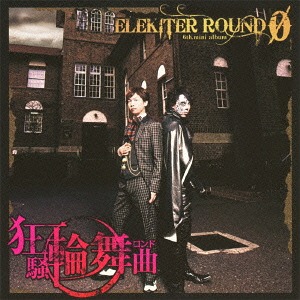 Elekiter Round 0
Elekiter Round 0