ELEKITER ROUND 0's new releases in February and March are now fully available for preorder. Already available since December for preorders is the still untitled 5th mini-album and now the preorders are open for the 6th mini-album.
This comes in the sequence of the double release promised by the band earlier last year that failed to be released in early Winter and had to be postponed to 2014. Scheduled to be released on 26/03/2014, the 6th mini-album, still untitled, comes out exactly one month after the release of its predecessor and will be available in both regular and limited editions.
The regular edition is just your typical CD that depending on the store bought may come or not with some bonus. Regarding the bonus on CDJAPAN the regular edition doesn't come with any bonus, at least it hasn't been announced on the site; on Animate they have announced that there will be bonus with both the regular and the limited editions but for people overseas it may prove practically impossible to buy on Animate unless you resort to use a proxy.
Regarding the limited edition: it comes with the CD and the DVD with the PV and the making of. Remember the Takahiro Sakurai cameo announced on the 5th mini-album? On the 6th mini-album there isn't any famous cameo announced. Still the mini-album is as attractive as the other since the band is known for the quality be it in their music or the PV's.
And if you're looking for the tracklist or cover art for any of the editions or even for any of the mini-albums you won't find a thing since those are still unreleased to the public. All that's known so far is that the 6th mini-album has 8 tracks total and from those 8, 4 are new tracks.
On the Marine Entertainment's twitter account it has already been revealed the band's new look:
Also revealed this week were the PV's titles. The PV's are the following:
【5th mini-album】「顔無紳士(ポーカーフェイス)」romanized to "Kaonashi Shinshi (Poker Face)"  with the cameo of multi-talented seiyuu Takahiro Sakurai.
【6th mini-album】「狂騒輪舞曲(きょうそうロンド)」 romanized to "Kyōsō rondo".
The 6th mini-album is already available for preorder on CDJAPAN for all overseas fans.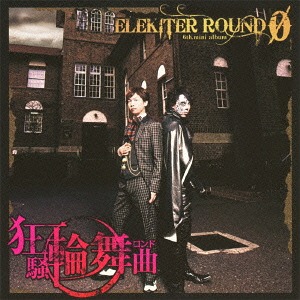 Elekiter Round 0
Elekiter Round 0