This time we find the heavy danceable "Up Stairs" which features some of the most addictive J-pop songs Daisuke Ono has released to date.
Now off to the details regarding the album.
Title: "Up Stairs"
Released: 25/09/2013
Label: Lantis
Genre: J-Pop
Tracklist:
1 - 熱烈ANSWER
2 - Ride On Funky Night
3 - DELIGHT
4 - Shinin' Days
5 - 叱咤純愛 1, chu, 3!!
6 - Kiss Kiss Kiss
7 - だいすき -UP STAIRS Remix-
Track by track analysis:
1 –熱烈ANSWER
To start the album we find "Netsuretsu ANSWER" a song already released on the single "DELIGHT". Funky guitars and trumpets make this song quite reminiscent of the 70's disco.
A fun song from start to finish foreshadowing the genre that will reign on this mini-album: danceable pop music. A catchy chorus, a great solo, and good work overall on this track.
2 – Ride on Funky Night
Also from the single "DELIGHT", "Ride on Funky night" is another song that doesn't escape the disco influences.
This one still has the trumpets, the soulful background chorus, an incredibly sexy vocal work by Daisuke Ono, and a catchy chorus once again, one of the best choruses on his more danceable songs. A highly addictive song.
3 – DELIGHT
Well here comes the song that has impressed many people so far and shocked a considerable amount of people when it was released. "DELIGHT" is a J-pop song almost reminiscing on K-pop and totally a completely different genre from the usual Daisuke Ono "trademark".
Released in 2011 and following several pop/rock releases, "DELIGHT" came out as a complete change in both sound and presentation for Daisuke Ono. In this song we have the traditional K-pop heavy synths, and some usage of voice manipulation software on a song clearly intended for the dancefloor.
Although it received all kinds of criticism, "DELIGHT" might sound bad at first, especially for people not fond of voice manipulation software usage (auto-tune) like myself, but with a few listens the song gets a bit better and the catchy chorus refuses to get out of your head, it may still sound cheesy for some people or might sound pretty good but that is for everyone to judge by themselves.
[youtube=http://www.youtube.com/watch?v=xjs43Rft-VY]
4 – Shinin' days
Released in 2010 featured on the "熱烈ANSWER" single, "Shinin' days" is yet another danceable song to its best. Funky guitar, upbeat instrumental, and good vocal work on the best song from the 2010 single.
The guitar work is pretty impressive, I've always been fond of the funky guitar playing that big names like Nile Rogers from Chic usually choose to play the guitar.
Highly addictive chorus and an instrumental that you won't be able to deny that will make you dance or you won't be indifferent to it.
5 – 叱咤純愛 1, chu, 3!!
Also featured on the 2011 single "DELIGHT" this song strays a bit away from the funky pop from the later song.
This one goes once again for the heavy synths but puts a bit of the voice manipulation software on the side at least not counting with the outro.
Besides this song sounding like it's a fun one, we need to add that somehow the song fails to impress.
The simple lyrics, the manipulation, and the female background vocals kind of ruined this song for me.
6 – Kiss Kiss Kiss
And the only new song on this mini-album, the promotional single for "Up Stairs", Kiss Kiss Kiss. Another danceable song but sounds even better than "DELIGHT" in both song and promotional video.
A J-pop song to the core with heavy synths, and fast beats, and the vocal work impresses during the song since Daisuke Ono can switch between his normal singing tone, the soft tone catching the high notes and rapping incredibly fast in the middle of the song.
A catchy song once again.
[youtube=http://www.youtube.com/watch?v=W1zaSv0JK_Y]
7 – だいすき -UP STAIRS Remix- 
And the letdown of the mini-album. This song is not a stranger to the fans since it was featured in the 2007 mini-album "ひねもす" (Hinemosu).
The song received a "makeover" and turned out to sound awful. They tried to make the song sound more dancefloor-driven and they failed completely. "Daisuki" was a fun song in its 2007 version… On this one, I simply don't have words to describe how they destroyed completely the song making it sound cheesy as hell.
Final considerations
This is a mini-album full of already-known songs to the public with only one new piece, the highly addictive "Kiss Kiss Kiss".
Interestingly enough, some of these songs fit incredibly well together, from the funky pop to the heavily K-pop-inspired songs this album has everything, although I was expecting some more new songs instead of the already-known ones.
Having listened to both sides of the "STAIRS" mini-album I can say that Daisuke's voice is in incredibly good form and we start to notice that he keeps improving his singing with every mini-album/single he releases.
The single is available on CDJAPAN for all overseas fans.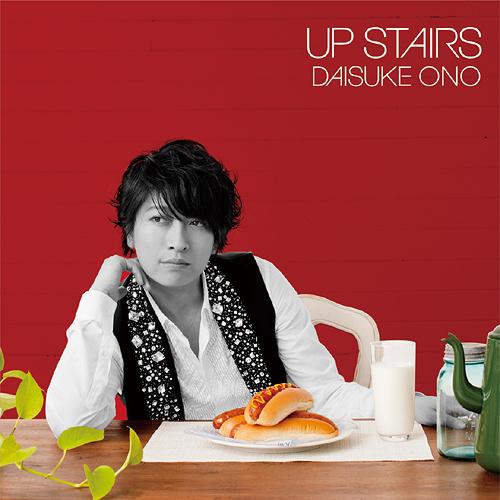 Daisuke Ono