The highly anticipated "Doors" is finally out. Daisuke Ono is back after last year's "Mission D". The follow up shows Daisuke Ono putting all his skills to use and showing new sides to his sound. A mix of everything that only – Daisuke Ono the entertainer – can pull off.
Mini-album: Doors
Label: Lantis
Release date: 01/07/15 
Genre: J-Pop
Tracklist:
01. Key of the mirror (inst.)




02. パノラマ・ミラー・ツアー




03. 宇宙全時代Discotheque




04. teardrops




05. プルマ・シエロ




06. Doors




07. カラフルレンズ


[Disclaimer: As it's been usual at THTF HQ, we don't give any classification to instrumental tracks.]
Track by track analysis:
01. Key of the mirror (inst.)
The opening instrumental piece "Key of the mirror" is a prelude for what's in store for us in this mini-album. It's bright, cheerful and makes the perfect bridge with the following track パノラマ・ミラー・ツアー. 
02. パノラマ・ミラー・ツアー
The single chosen to promote this album is the classic pop track パノラマ・ミラー・ツアー. With an enthusiastic instrumental piece heavily resorting to brass, strings, piano, mid-tempo drums, a sweet bassline and the almost unnoticeable electric guitar, this simple formula breaks way from the heavy synth based pop that Daisuke Ono has once worked with and shows the listener, not only a matured performer but also a mature sound to go along with. 4/5
03. 宇宙全時代Discotheque
The fans' favorite 宇宙全時代Discotheque is here. Kicking off with a smooth synth lead in a mid-tempo half jazzy, half disco instrumental, this track is an instant eye catcher. Usually we'd listen to Daisuke Ono's dance tracks resorting heavily on synths and turning into small disasters (anyone recalls the cheesy mess called "Delight"?) but this time everything was carefully thought, a balanced mix between genres, picking all the best elements in each one of them: the soothing synths in the beginning of the track, the funky bass and guitar, the minimal vocal manipulation, the classic disco strings and brass right there in the chorus' background. Everything layed out in a perfect mix. A laidback track that invites you to the dancefloor and also has a rocking guitar solo in the bridge. The vocal performance is solid with Ono showing us how a mid-toned singer should approach a track as immersive and diversified as this one. Easily one of Daisuke Ono's best dance tracks. Classy, smooth and addictive. 5/5
04. teardrops
"teardrops" is a beautiful, minimal ballad. Stripped out of anything noisy, this track keeps things simple: soothing synths, a simple piano, strings, synthetic drums and an emotional acoustic guitar. Simple formula that gives life to one of the sweetest tracks Daisuke Ono has released so far. It's not excessively mellow to the point that will make you yawn – that I assure you – but it certainly has a lullaby taste to it. And as in any lullaby, the best type of voice to sing it is a good mid-toned voice and OnoD just happens to have hit the jackpot in it. 4.5/5
05. プルマ・シエロ
Reminding us a bit of the "Lunar Maria" phase,  プルマ・シエロ brings back latin percussion and a freer, more melodic sound but without exaggeration. It is passionate and tender. The acoustic guitar, castanets, accordion, bongos, all mixed with the jazzy drums, leads us to this track that shows us not only one of the genres in which Daisuke Ono sounds the best – next best thing is OnoD singing rock songs -, but also a passionate, laidback and addictive performance. A pearl that seems to come straight from southern Europe. 4.5/5
06. Doors
Penned by Daisuke Ono, "Doors" is all about being up close and personal. Melodic and emotional, "Doors" kicks off with a beautiful piano, adding some mellow drums along the way, slowly building up to reach a strong chorus where synths, guitar solos and minimal dubstep elements take over. From just reading the inspirational lyrics maybe a less electronic approach to the track would have been a better choice, with less synths and selecting more acoustic, raw instruments would give the track an even more personal feel. Even though the instrumental turned out the way we're presented with, it's in no way a bad one or unfit for the lyrics. The message was conveyed well and the lack of anything particularly distracting helped to deliver the final result: a beautiful pop tune with its highlight melodic touches and Ono's soothing vocals. 4/5
07. カラフルレンズ
Coming full circle, カラフルレンズ completes this mini-album in a bright, up-beat way – if you recall Ono's first solo releases this track will hit home. It's a mid-tempo pop-rock track with its greeting card being the peppy instrumental – resorting to strings, jazzy piano, rocking guitar, slow, a fingered bass leading the way and the up-beat drums, always a beat ahead in our excitement. With a gentle approach to the vocals, Daisuke Ono had some minor flaws with some weird sounding notes in the chorus but nothing that instantly noticeable. Besides the vocal performance was made without any big hassles. A rich instrumental that proves that OnoD's days of heavy dancing are something in the past and reviving his old sound that, despite not being a major "people-pleaser" like "DELIGHT" and "Kiss Kiss Kiss" were, show more music value and more integrity to Daisuke Ono, the entertainer. 4/5
Final rating:
Having finally break away from that "pimp" image and heavy machine-made sound, Daisuke Ono presents his music on a complete different level. Why choosing a genre and a concept for the whole mini-album when each song can tell a different story and have different concepts between themselves? It's an interesting approach that lets the fans listen to OnoD challenging himself with new genres, new ways of singing and, of course, showcasing his skills both in singing and songwritting. It's always a pleasure to listen to Daisuke Ono's own written lyrics. There's a say that basically tells us that there is nothing that can compare to the original, with Ono on the helm, penning the lyrics to "Doors" we get a little bit of time to get to know closely who is Daisuke Ono, the occasional songwritter. With a penmanship more inclined towards ballads, it wasn't a surprise that "Doors" took that avenue.
With a mini-album showing bright pop tracks, classic pop tunes, pop-rock, disco jams, between many other genres and elements, "DOORS" is the most eclectic release in his repertoire. It's just plain and simple: when you have a voice as addictive and engrossing as this one it's impossible to remain neutral while listening to the tracks. It's obvious that Daisuke Ono sounds like he's been experimenting with new ways to sing his songs – through trial and error a close to perfection formula will rise – and that is clearly visible as Ono doesn't often make mistakes or miss the keys but on   カラフルレンズ there were parts of the track that showed not only a struggle to keep the key as well as some minor tone issues, and although those are barely noticeable to the untreined ear, those struggles show that OnoD is working on improving his vocals. 
As for the highlights of this mini-album we need to point out the addictive mid-tempo dance pop track 宇宙全時代Discotheque, by far the best track, in terms of entertainment value, released by OnoD in the past two years. And why is that? It's a dance track without a single cringe worthy moment – it's certain that he's already released several dance tracks but all of them failed to be complete songs where things seemed to have been planned correctly. Nothing seemed rushed in 宇宙全時代Discotheque, the fact that the guitars and brass weren't discarded only contributed to enrich the track and show the true potential a dance track with Daisuke Ono on the mic can have.
It's not often that Daisuke Ono releases ballads, it was interesting to have not one but two (teardrops and Doors) on this mini-album and those fared pretty well. Also the comeback of latin instruments gave an extra edge for this mini-album and made us beg for more tracks like it.
All in all, "DOORS" is an entertaining amalgam of genres with rich sounds, addictive tracks and that sweet mid-toned voice we love. It's daring, sexy, fun, delicate, a solid summer release and one of the best Daisuke Ono's releases – if putting the quality and music value in the forefront.
"Doors" is available for purchase on CDJAPAN for all overseas fans.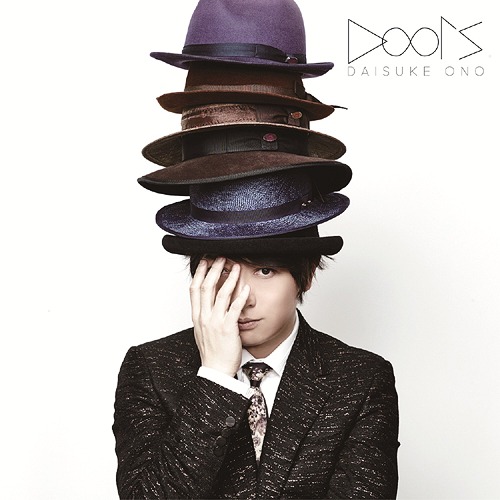 Daisuke Ono