Bad Ass Temple bring the unique touch of Nagoya with a riveting release.
Title: Bad Ass Temple Funky Sounds
Label: EVIL LINE RECORDS/KING RECORDS
Release date: 27/11/2019
Genre: Hip-Hop/Rock
Tracklist:
1. Bad Ass Temple Funky Sounds (performed by Bad Ass Temple)
2. そうぎゃらん BAM (performed by Kuko Harai - CV: Shouta Hayama)
3. 月光陰-Moonlight Shadow- (performed by Jyushi Aimono - CV.Yuki Sakakihara)
4. One and Two, and Law (performed by Hitoya Amaguni - CV: Eiji Takeuchi) 
5. 不退転の心は撃ち砕けない(DRAMA TRACK)
Track by track analysis:
1. Bad Ass Temple Funky Sounds
Bad Ass Temple Funky Sounds is keen on its rock sound, expression of the crew's "tough" image. Overdriven guitars, a punchy slap bassline, bassy drums, and a bit of turntablism complete this rock-hop instrumental. The song has a cool vibe to it despite the obvious objective of representing Nagoya and intimidating with their catchy blend of hip-hop and rock.
When it comes to the rap performances, Bad Ass Temple focuses a lot on teamwork, with the majority of the song riding on the electrifying chorus and crew parts. The crew has an aggressive rap style but it no way intimidating like, for example, MAD TRIGGER CREW's is. This alone makes this crew easy listening right off the bat. Add to this a chorus that takes more of the song than the verses – and it is crafted in a way that you can't help but feel the vibe and groove along – and you have a recipe for an earworm song. Funky and entertaining, solid way to kick off this release. 4.5/5
2 – そうぎゃらん BAM (Sougyaran BAM)
This is quite the unique track. Sougyaran BAM mixes rap, 80s citypop-inspired synths that power the dated chorus,  jazz in the pre-chorus, and temple bells throughout the song to create an exquisite hip-hop song. Aside from Shouta Hayama's (as Kuko Harai) quirky rap, listeners get a glimpse of Hayama's vocals through a series of unexpected high notes and pitch vocals that came out of nowhere to impress and, at the same time, making this track even more complex. When a song wraps up, you won't know what just hit you. It is that exquisite of a song. 4.5/5
3. 月光陰-Moonlight Shadow-
Continuing the exquisite trip through Nagoya's Bad Ass Temple, we find a visual-kei rock + hip-hop track. Harpsichord melodies set an eerie, visual-kei-ish vibe while hard-hitting snary drums, dramatic guitar riffs, a thunderous bassline, and an ominous piano melody shape this unique take on hip-hop with a touch of drama and theatrics by visual-kei.
The song gets increasingly dramatic and, by the outro, you can't help but to in awe of how great of a song this one is. Yuki Sakakihara (as Jyushi Aimono) put his vocal chops to the test, performing a mix of clean, yet dramatic visual-kei style of vocals as well as delivering his rhymes in a dramatic way that worked incredibly well. Top marks. 5/5
4. One and two, and Law
Despite its jazz intro, One and Two, and Law goes towards the gangsta rap route, bringing classic synth hits, 808 beat, triplets, and brass in what sounds like a song straight from the early 00s yet with some trap touches to it. It is powerful, intimidating and represents another interesting layer to this crew.
The rap performance is equally powerful, with Eiji Takeuchi's (as Hitoya Amaguni) rough rap and flow making it impossible not to jam along to the song. Strong performance to wrap up this release with. 5/5
Final considerations
Bad Ass Temple arrived to add new and fresh takes on hip-hop to a franchise that was getting too comfortable as of late.
Bad Ass Temple Funky Sounds is a quirky release coming from a crew that features 3 contrasting takes on hip-hop music as well as fresh rap performances. The title track manages to introduce the crew in a flashy way, bringing rock and hip-hop to the spotlight and doing so in a tasteful way.
Sougyaran BAM managed what we considered to be impossible: mix citypop with hip-hop. Add to it a quirky, off-tempo rap performance and an unpredictability in the instrumental we get a song that hit us like a tornado and left us wanting to hit that replay button just to understand what we just heard.
Although Nagoya-kei is no longer a trend in Japan, Moonlight Shadow pays homage and represents what is one of Nagoya's prides with class. The instrumental pulls the listener in and Yuki Sakakihara's performance – mixing rapping and clean, dramatic singing – was gripping and poignant.
The mini-album wrapped up with what we consider the best song on this release, One and two, and Law. Although gangsta rap had previously been explored in the franchise (by MAD TRIGGER CREW in their first CD), there is no group that effectively sticks with the genre so there is a shortage of early 00s gangsta rap or any gangsta rap for all that matters. The beat had us going while the powerful rap by Eiji Takeuchi had our full attention.
All in all, Bad Ass Temple adds a breath of fresh air to the Hypnosis Mic franchise. Their rock + hip-hop fusion sound and contrasting backgrounds + rap styles easily make the crew stand out with a release that certainly deserves a listen.
This mini-album is available worldwide on Spotify.
Bad Ass Temple Funky Sounds is available for purchase at CDJAPAN.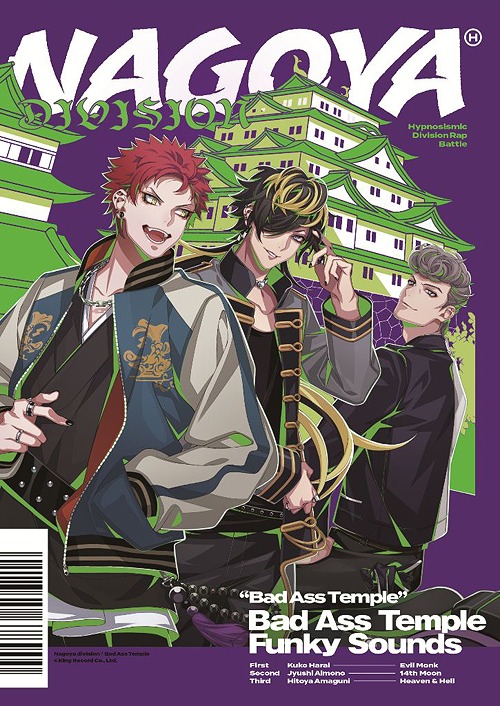 Bad Ass Temple