3 Majesty (Daisuke Namikawa, Daisuke Kishio, Tetsuya Kakihara) and X.I.P. (Takuya Eguchi, Kousuke Toriumi, Satoshi Hino) will return by the end of this year with the third installment of the Duet Cross series.
"2×3! -Duet Cross Three!", the mini-album is scheduled to be released on 01/11/2017, available in two editions: regular and limited.
The cover art is the following:
The tracklist is the following:
Honey come(Vocal:Daisuke Kishio&Kousuke Toriumi)
散歩道(Vocal:Daisuke Namikawa&Takuya Eguchi)
Crazy in love(Vocal:Tetsuya Kakihara&Satoshi Hino)
Honey come Instrumental
散歩道 Instrumental
Crazy in love Instrumental
— Bonus Tracks —
プロモーション 音羽慎之介&伊達京也 ver.
プロモーション 霧島 司&神崎 透 ver.
プロモーション 辻 魁斗&不破剣人 ver.
At the moment there's no music previews for this single.
"2×3! -Duet Cross Three!" is already available for pre-order on CDJAPAN for all overseas fans.
3 Majesty x X.I.P.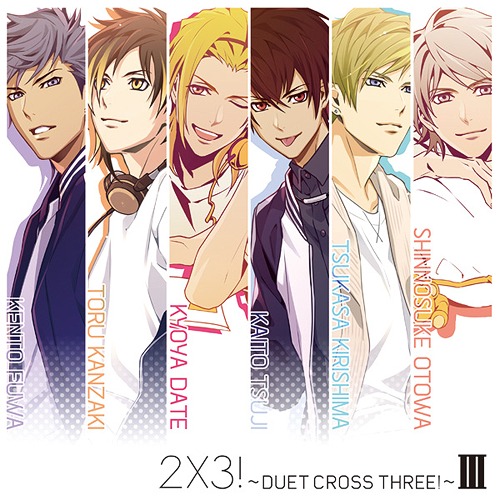 3 Majesty x X.I.P.
SOURCE: Prince Rep official website