3 Majesty×X.I.P. – 2×3!~DUET CROSS THREE!~ III is a strangely bland release that failed to deliver, for the most part, something engaging.
Title: 2x3! -Duet Cross Three!
Label: Universal Music
Release date: 

01/11/2017


Genre: J-Pop/Dance
Tracklist:
Honey come(Vocal:Daisuke Kishio&Kousuke Toriumi)
散歩道(Vocal:Daisuke Namikawa&Takuya Eguchi)
Crazy in love(Vocal:Tetsuya Kakihara&Satoshi Hino)
Honey come Instrumental
散歩道 Instrumental
Crazy in love Instrumental
プロモーション 音羽慎之介&伊達京也 ver.
プロモーション 霧島 司&神崎 透 ver.
プロモーション 辻 魁斗&不破剣人 ver.
Track by track analysis:
1 – Honey come
"Honey come" felt and sounded bland and generic from the get-go. The beat, provided by the synthetic drums, is monotonous, the mix of synths and strings is, of course, something that it isn't new in the pop genre, but they managed to make them sound unexciting when it seemed like the underlying idea had been to make a sweet vibe standout and, to worsen things, the instrumental's progression was predictable as soon as the first two bars played. To add to this, we have on vocal duty Kousuke Toriumi and Daisuke Kishio, a pairing that doesn't seem to work that well as a "unit" or in a duet context. Considering each of their character's voices and quirks as well as the seiyuu's own singing skills and quirks, we found that this duo only sounded remotely good during the choruses. 2/5
2 – 散歩道
Changing gears, we're now presented with an acoustic ballad. 散歩道 envelops the listener in delicate strings, emotional acoustic guitar riffs and simple, mid-tempo drums. The verses are quiet, resorting mainly to acoustic guitars, snary drums and a noticeable bassline. The chorus doesn't get more exciting than that, only adding strings, some electric guitar licks, and minimalistic piano melodies. A ballad is meant to move us, listeners, with quiet, emotional instrumentals and befitting performances. What we got from the vocal department for this song was satisfying. Daisuke Namikawa and Takuya Eguchi delivered a solid performance with enough emotion to make us connect with the lyrics and overall mood of the song. 4/5
3 – Crazy in love
"Crazy in love" brings to the table a rock imbued instrumental. Raging guitars and powerful drums open the way for what is the most engaging and energetic performance on this release. This instrumental is the only one on this release that really puts into music both characters' fiery passion. On the vocal department, this was the match up that we were most anticipating. Kakihara and Hino are 3Majesty and X.I.P.'s best vocals, as we can ascertain from their respective groups' releases up until now. However, we felt like their performance, although incredibly solid and the best on this release, was still too simple and comfortable in comparison with what they usually bring to the table. For a song this passionate, the vocal performances could have been more powerful. 4.5/5
Final rating: 
3 Majesty×X.I.P. – 2×3!~DUET CROSS THREE!~ III is a strangely bland release that failed to deliver, for the most part, something engaging. If we're talking about a cross duet series, we want to listen to clashing sonorities that bring a little bit of each group's image or trademarks into the mix, we want vocal battles that raise the quality of a release and impress the listeners. However, what we got with this release is completely different from it. It seems that everything was made in order for this release to be "comfortable", a mere addition to someone's collection. Out of all songs, only "Crazy in love" managed the best to bring to the table each of the character's "essence" and execute it in a satisfying way. Some might argue that the characters in question and the music genre they performed is the easiest to bring out that fiery passion inherent to both characters. We beg to differ. For example, "Honey come" had everything to bring that mix of gentleman and playboy vibes to life. A pop instrumental would make it incredibly easy to put that vibe into music. In the end we got a bland attempt at that.
散歩道 might haven't brought any energy to this release, but it certainly added a bit of much needed emotion to it. Daisuke Namikawa and Takuya Eguchi performed it comfortably, without adding any flourishes or anything or the sort. Just a clean, simple performance.
"Crazy in love" tried to wake us up with fast paced drums and aggressive guitar riffs but the vocal performances were lacking, failing to match the instrumental's power. For this song we were expecting more from Tetsuya Kakihara and Satoshi Hino's performances. Both are the best singers in their respective groups but for this song, the feeling that lingered was that both didn't put in the effort to deliver something with more substance. Don't get us wrong, that performance was incredibly good, the best one on this release, but when we have Kakihara that has been carrying 3Majesty on his back in the past couple of releases with his polished singing skills (that now included a solid vibrato and falsetto) and Hino that has a singing range unlike almost everyone (Takuya Eguchi still has the best and most consistent singing skills between all members of X.I.P. and 3Majesty) on this franchise, and lately has been carrying X.I.P. on his back with his powerful performances, it was strange to find both delivering a simple, raw performance without anything worthy of praise.
In the end 3 Majesty×X.I.P. – 2×3!~DUET CROSS THREE!~ III felt like a watered down version of each group's sound. It was weak for the most part and uneventful for the other. Taking into account how both groups have been sounding in the past year, it's surprising to find a release like this, one that made all groups regress to their debut days in terms of quality, back to lacking or bare minimum performances and watered-down instrumentals. Instead of hyping us for the upcoming releases – slated for the first quarter of 2018 -, this release made us cautious about them.
"2×3! -Duet Cross Three!" is available for purchase on CDJAPAN for all overseas fans.
3 Majesty x X.I.P.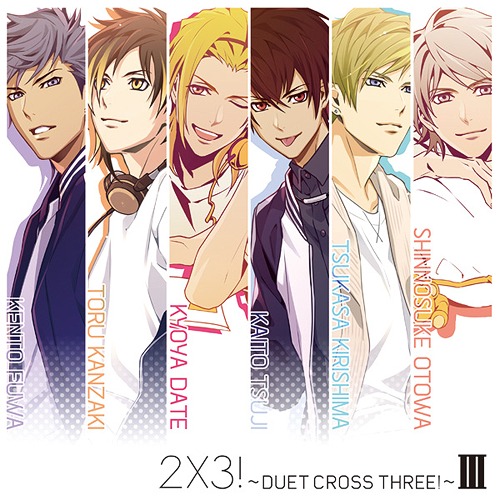 3 Majesty x X.I.P.