3 MAJESTY, seiyuu unit originated from Android/iOS game "Tokimeki Restaurant" and consisting of Kakihara Tetsuya, Daisuke Namikawa and Daisuke Kishio have announced their first single release.
Titled "Royal Trinity" and being released under Sony Music Entertainment on 26/03/2014, the new single is the follow up to the already released tracks: "You + I=LOVE" and "Show Up!".
[youtube=http://youtu.be/o3qhyihEntA]
[youtube=http://youtu.be/CSV6fmfOpSg]
With a bright pop, 3 Majesty only lack a bit on their instrumentals sounding, at times, a bit over the top, pending to the "corny" side. Besides that the unit has three interesting seiyuu with plenty of singing experience able to somehow cover up the ridiculousness of some tracks.
The single is available in two different editions: regular and limited edition. The regular edition comes with first press bonus (another jacket) and the limited edition comes with a DVD with the PV and other unannounced bonus. The cover art is still unknown as well as the tracklist.
Regarding the tracklist it's only known that it has a total of 6 tracks being three of those the instrumental tracks. More details to be revealed as soon as available.
"Royal Trinity" is available for preorder on CDJAPAN for all overseas fans.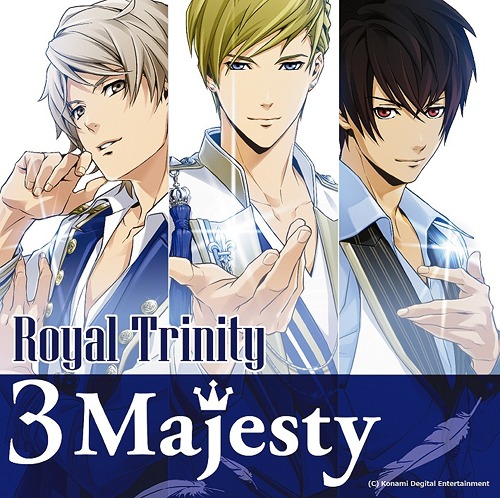 3 Majesty
3 Majesty