3 MAJESTY, seiyuu unit originated from Android/iOS game "Tokimeki Restaurant" and consisting of Kakihara Tetsuya, Daisuke Namikawa and Daisuke Kishio have announced their first single release and now, with one month to go until the release more details regarding the single have been revealed.
Titled "Royal Trinity" and being released under Sony Music Entertainment on 26/03/2014, the new single is the follow up to the already released tracks: "You + I=LOVE" and "Show Up!".
The single is available in two different editions: regular and limited edition. The regular edition comes with first press bonus (another jacket and a postcard on CDJAPAN) and the limited edition comes with a DVD with the PV and several other bonus.

 an another jacket randomly selected from four kinds
 postcard(s)
The cover art is the following:
The tracklist was revealed and is the following:
[CD]
1:『Show U!』Otowa Shinnosuke (Center/lead Version)
2:『YOU+I=♥』Tsuji Kaito (Center/lead Version)
3:『Farewell Snow』Kirishima Tsukasa (Center/lead Version) 
4:『Show U!』(instrumental)
5:『YOU+I=♥』(instrumental) 
6:『Farewell Snow』(instrumental)
[DVD]
1. Tokimeki Restaurant ☆☆☆ Game PV
2.「Show Up!」Music Video (Short ver.)
3.「You+I=♥」CM
4.「You+I=♥」Music Video (Short ver.)
5.「VS Live LOVE motion TOUR 」CM
6.「Farewell Snow」「Power Move」CM
"Royal Trinity" is available for preorder on CDJAPAN for all overseas fans.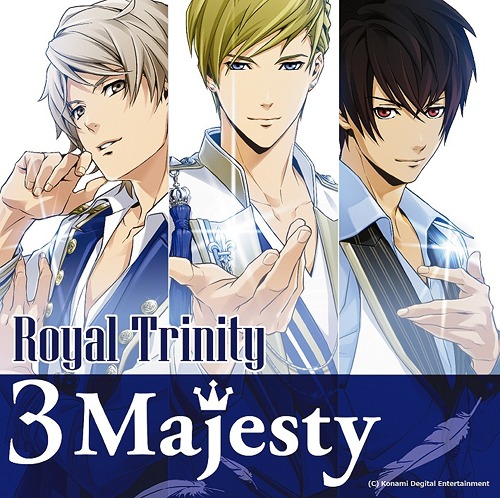 3 Majesty
3 Majesty